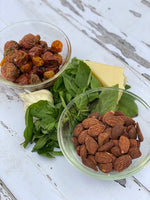 Pesto all Trapanese is a Sicilian sauce combining cherry tomatoes, basil, garlic, parmesan, and olive oil.   It is a great way to utilize the cherry tomatoes from your garden. I like to oven roast the tomatoes first to add an extra depth of flavor known as umami.  It is super delicious and makes a great late summer pasta sauce. 
I get excited about late summer produce, especially tomatoes. It is the one time of year when a tomato tastes like a tomato.   
I preserved the tomatoes by oven roasting—toss the fruit in oil, balsamic, garlic, thyme, and salt.  Lay on a sheet tray, lined with parchment paper, and put in an oven set at 225 F.  I roast mine for at least 4 hours; the longer you go, the deeper the flavor.  
If your almonds are raw, you should roast them now.  I buy them already roasted.  Most recipes I found on the internet said to put the almonds in the food processor and then take them out, put the herbs in, then take them out, put the tomatoes in, then take them out, then add them all together.  I think that is pretty inefficient and annoying.  Instead, try to use the food processor responsibly, or use a knife if worried about getting the texture wrong.  I also feel it is essential to put the herbs in last.  If you put herbs in a food processor and run it for too long, it is going to taste bad (just like using a dull knife). 
It is essential to understand what you want your sauce to be like before you start.  If you want a rustic sauce or a smooth sauce, learn how to make the food processor work for you.  If you want more texture, only let it run for two seconds, then add your next ingredient, so on and so forth.    
I like to make this pretty smooth. It makes for a great spread on sourdough toast or as a pasta sauce.  If making a pasta sauce, once the pasta is cooking remove two oz of pasta water and simmer in a sure pan.  You can use stock in place of pasta water for added flavor.  Add two tablespoons of Trapanese sauce per person and simmer.   Mount with butter and taste, season until it tastes great.  Once pasta is cooked add to the sauce and simmer for an additional minute.  I like to garnish this pasta with sourdough bread crumbs.  
---
← Older Post Newer Post →