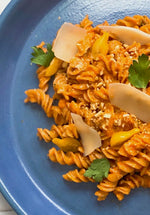 Romesco Sauce is a Spanish sauce traditionally used as a garnish for fish. It is also great as a pasta sauce. You can make it ahead of time and keep it refrigerated for up to a week. Meal prep it on Sunday and use it for an easy dinner during the week. If you buy already roasted peppers and almonds, you can make this sauce in just about five minutes.


Romesco is traditionally made with roasted tomatoes, fresh garlic, and the addition of hazelnuts. In the past, I have added a spicier pepper or a little red pepper flake. Today, I adjusted the recipe slightly to work with what is available and pleasing both to my daughter and my palate. I love roasted garlic and enjoy replacing fresh minced garlic with roasted garlic paste. It adds a depth of flavor to the sauce.


To turn a thicker sauce like this into a pasta sauce with an appropriate viscosity and mouthfeel, merely thin it out with a little pasta water and mount with butter. As the pasta is cooking, get a saute pan warm and ladle about 4 oz of the pasta water into the pan. Once it begins to simmer, add 4 oz Romesco sauce into the simmering water. Then mount with 2 tbl spoons of cold butter and combine by gently agitating the pan. It is ok if the sauce is a little broken right now, it will come together when you add the pasta. Once your pasta is finished cooking, add to the pan and simmer for a minute. At this point, I usually add a little more of the pasta water as well (about an oz). Taste your sauce and season to taste. I always have fresh lemons on hand; a squeeze of lemon juice brightens the dish up.
---
← Older Post Newer Post →