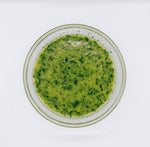 Chermoula is a sauce/relish used in North African and Moroccan cuisine.  It is traditionally used as a marinade and with grilled steak and fish. Green chermoula is bright, tangy, and the perfect addition to most meals. I love it in the summer as a pasta sauce tossed with a bunch of grill charred vegetables. 
It is so hot this summer that cooking can be a real drag, even with air conditioning our house is having trouble staying cool.  The last thing I want to do is make sauces that take a long time to cook and is going to make me feel any hotter.  Green sauces such as pesto, chermoula, and chimichurri are the king of sauces in the summer.  They are quick to make, full of flavor, and you don't have to turn on a stove or oven to make them. 
Chermoula looks simple but packs so much flavor; it is herbaceous, the ginger and jalapeno add tang, and adding a little acid brightens the sauce up and takes it to the next level.  Even with it being simple, there are still some small mistakes that can lessen the quality of the final product.   
Parsley is an essential part of this sauce, take care to pick the leaves and remove all the stems.  The stems are bitter and do not taste good in these sorts of sauces.  If you are sensitive about waste, save the stems for stock.  Make sure your knife is sharp before you chiffonade your herbs.  I can't overemphasize how important a sharp knife is.  When it comes to herbs, a dull knife will bruise the leaves, and you will end up with a product that tastes like cut grass.  
I blended all the ingredients except for the oil in a bender and then slowly drizzled the oil in to make an emulsified sauce.  An emulsified smooth sauce is excellent for marinades and pasta sauces.  You can also skip the blender and cut all your ingredients by hand.  I like chermoula a little more rustic and chunky for grilled proteins.
To make a quick pasta sauce out of the green chermoula, take about two oz of stock per person.  Simmer on medium heat on the stovetop.  Reduce stock by half and mount with cold butter(a tablespoon per person). At the same time, cook your pasta.  Once the pasta is al dente, add the pasta and an oz of the pasta water to the sauce, simmer for a minute.  The last step is to add about one tablespoon per person of the chermoula to the pasta, toss, and serve. 
---
← Older Post Newer Post →